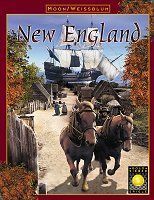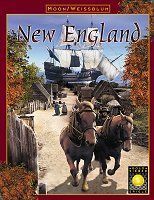 Description
A bidding and tile laying game with a theme of settling 17th Century New England. Each player represents a family that buys up and develops large tracts of land. The area of settlement is 98 squares (9 x 11, with one square missing). Each family starts with a double-sized tile of each of the three land types - settlement, cropland, pasture. Tiles have undeveloped and developed sides; naturally, they start undeveloped. In each round after the initial placement of the starting tiles, players bid for the right to buy more land tiles or development cards - up to two per round. A total of 9 combined tiles and cards are available each round for purchase. The advantage of bidding high (and...
How To Play
Sorry, we currently have no How To Play videos for New England.
Rules Download
Sorry, we have no downloads available for this game at the moment.
Touring England board game 2-4players reissue of 1930s touring car game. NEW
£5.50
Touring England Board Game 1930s Style Family Retro Vintage Style Traditional
£13.99
ENGLISH HERITAGE Risk Medieval England Board Game - Rare / Collectable ** NEW **
£77.49
ENGLISH HERITAGE Risk Medieval England Board Game - Rare / Collectable ** NEW **
£79.99
ZEUGO ENGLISH TEAMS New Board Game Figures Sport England Football
£6.99
ZEUGO ENGLISH TEAMS New Board Game Figures Sport England Football
£8.99
New England Railways Board game
£39.95
NEW: Touring England Board Game
£10.00