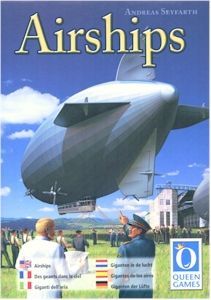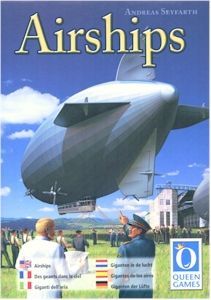 Description
Description from publisher: By cleverly combining the three colored dice with the values on the cards, you take part in building zeppelins and finally the famous Hindenburg. Renè from spielbox.de: "Giganten der Lüfte (working-title "Zeppelin") is a very tactical dice-game. You need mechanics, engines, and workshops.... Only the player with the best combination of those will successfully take part in building the Hindenburg." Giganten der Lüfte is not comparable to Lucky Loop or Alhambra - the dice game. It is comparable to games like Kingsburg and To Court the King, where you use the dice as a form of resources to ...
How To Play
Sorry, we currently have no How To Play videos for Airships.
Rules Download
Sorry, we have no downloads available for this game at the moment.
Airship City - Worker Placement Board Game
£33.99
AIRSHIP CITY BOARD GAME
£40.78
Airship City Board Game
£39.99
The Wind Gambit Expansion for the Scythe Board Game - Airship, Resolution STM631
£22.99
Airship City - Brand New & Sealed
£44.87
Kings of Air and Steam 2013 First Edition airship trains resources map cities
£35.00
Sugoroku Board Game Japan Vintage prints Animal vehicles Train airship 1926
£101.35
Airship City Board Game
£69.99