A Game of Thrones Collectible Card Game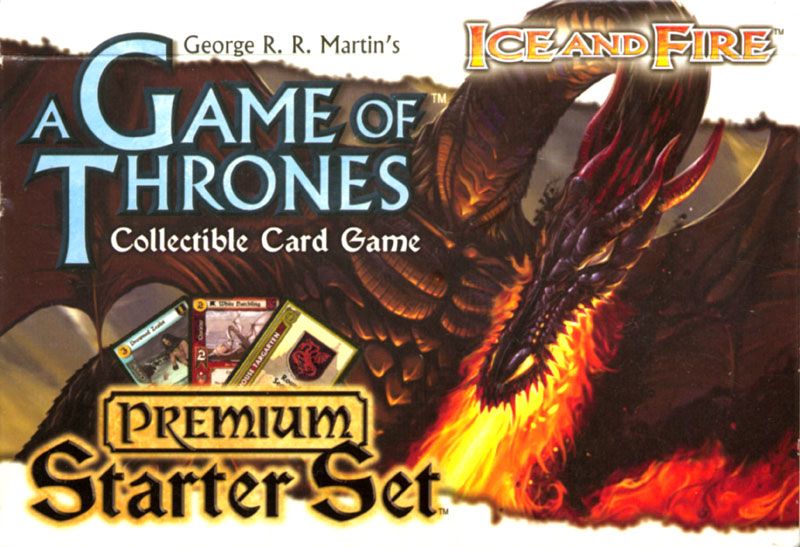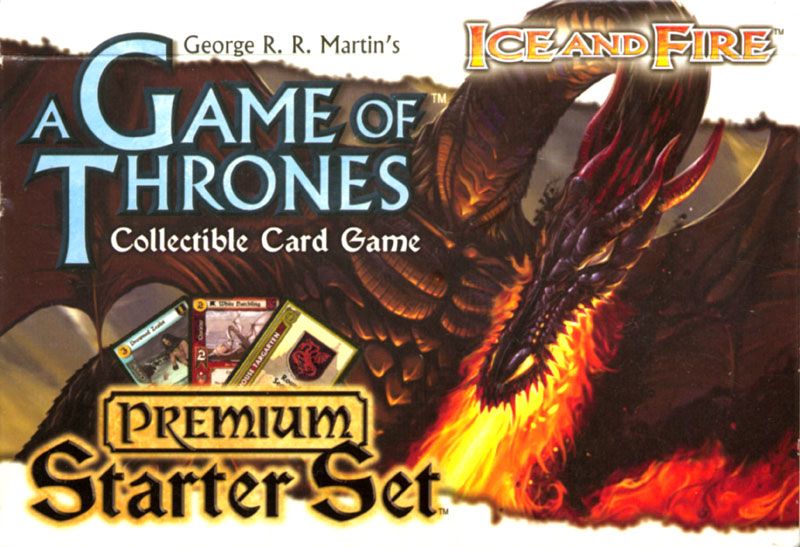 A Game of Thrones Collectible Card Game Board Game
Description
This entry is for the Collectible Card Game (CCG) that pre-dated the current Living Card Game (LCG). For the LCG, go to A Game of Thrones: The Card Game Collectible Card Game based on the "A Song of Ice and Fire" series of fantasy novels by George R. R. Martin. The following Starters and Booster Packs were released before the transition to LCG Format: Westeros Sea of Storms Flight of Dragons Ice and Fire A Throne of Blades A Crown of Suns Valyrian A Tourney of Swords A Reign of Kings Winter Edition A Song of Twilight A Song of Night Iron Throne A House of Thorns A House of Talons Five Kings Re-implemented by: A Game of Thrones: The Card Game
Reviews
How To Play
Sorry, we currently have no How To Play videos for A Game of Thrones Collectible Card Game.
Rules Download
Sorry, we have no downloads available for this game at the moment.
Game of Thrones - Official Collectable Playing Cards - 52 Card Deck - First Edition
£3.89
£12.07
Game of Thrones Playing Cards
Fantasy Flight FFS04 Supply Standard European Board Game Sleeves
£2.28
£3.68
QXue Game of Thrones Monopoly Board Game | Collectable Monopoly Game | Official Game of Thrones Merchandise | Based on The Popular TV Show on HBO Game of Thrones | Themed Monopoly Board Game
£25.83
£25.83
Fantasy Flight Games Thrones: The Card Game 2nd Edition King Disembark Cycle. Under the Red Strength (GT49ES)
£20.33
£20.33
Fantasy Flight Games FFGAHC36 Arkham Horror LCG: Return to The Path to Carcosa, Mixed Colours
£28.99
£23.74
Fantasy Flight Games FFGGT28 Someone Always Tells Chapter Pack: AGOT LCG 2nd Ed, Multicoloured
£4.69
£4.69
Hasbro Gaming Monopoly Classic Game
£21.99
£14.99
4 x Docsmagic.de Player Organizer for A Game of Thrones: The Board Game- Spieler
£32.99
A GAME OF THRONES LCG BOARD GAMEBOARD CCG PLAYMAT LIVING CARD GAME 2 PLAYERS
£17.99
A Game of Thrones Card Game the Brotherhood without Banners Chapter Pack GT21
£12.37
Fantasy Flight Games VA100 A Game of Thrones Hand of the King Card Game
£20.99
A Game of Thrones LCG: The Red Wedding Chapter Pack
£19.70
Game of Thrones LCG (1st Ed.) A Roll of the Dice Chapter Pack (FFG) NEW!
£4.99
A Games Game of Thrones LCG - Guarding the Realm Chapter Pack - English
£18.48
A Game of Thrones LCG: The Red Wedding Chapter Pack
£17.61
The Archmaester's Key Fantasy Flight Games Brand New A Game of Thrones
£12.59
Docsmagic.de Player Organizer for A Game of Thrones: The Board Game - Spieler Br
£13.99
Fantasy Flight Games A Game Of Thrones Hand Of The King Card Game GIFT
£15.59
A Game of Thrones LCG: Here to Serve
£10.79