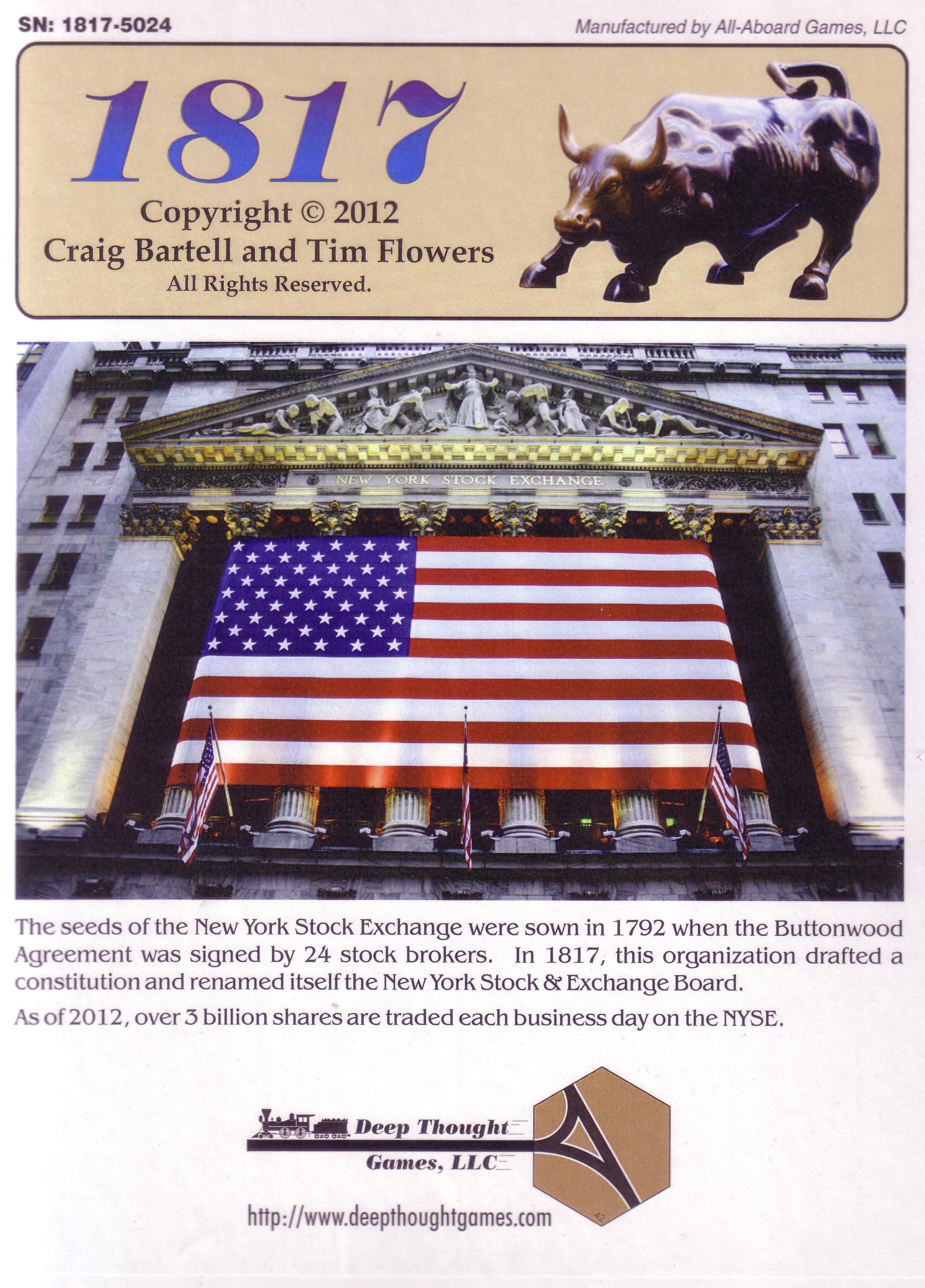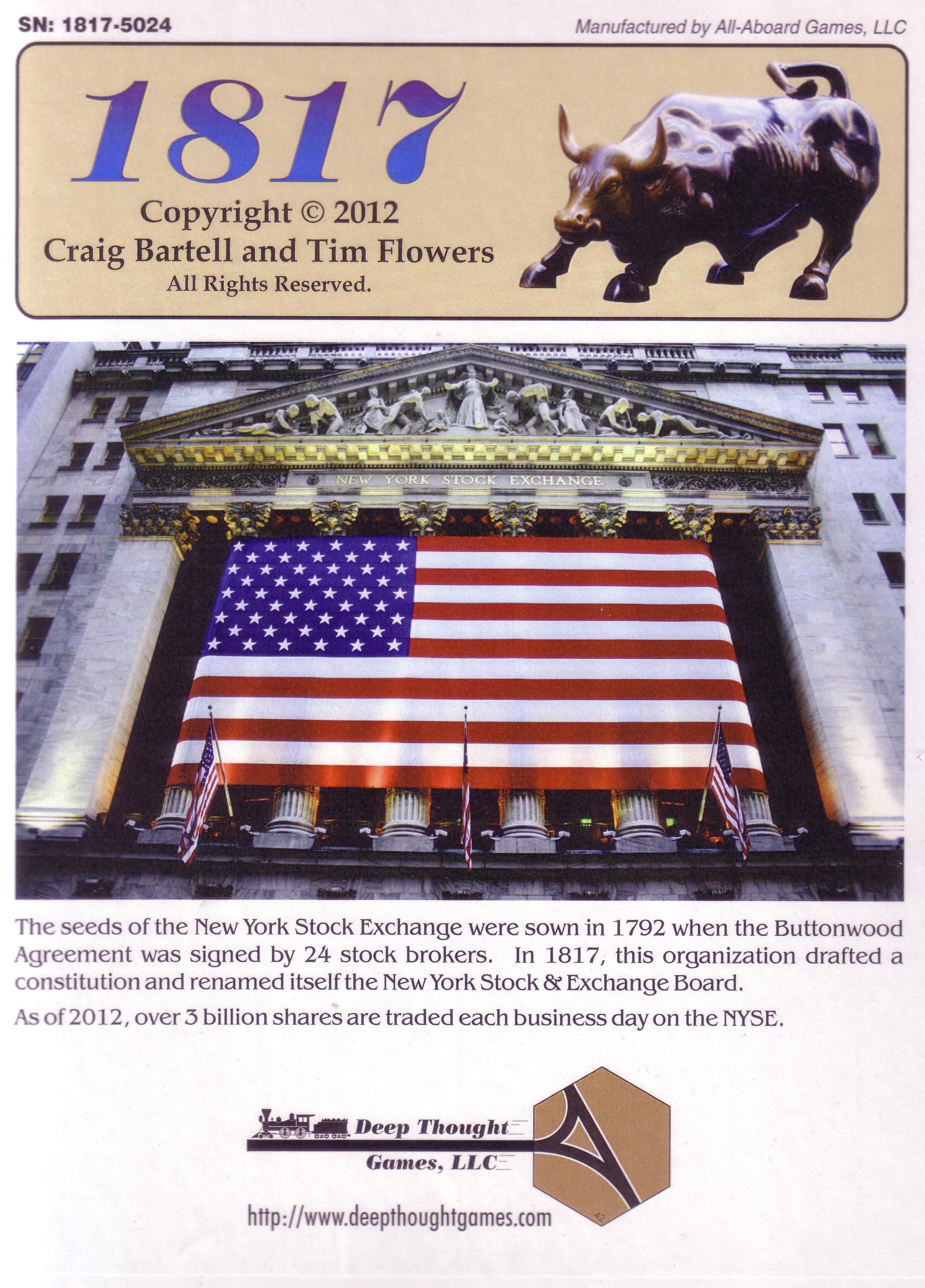 Description
1817 is a railroad operations and share trading board game in the 18xx series with a distinct financial flair. It is named after the year the New York Stock Exchange opened at 40 Wall Street in New York. 1817 differentiates itself from other 18xx games with its sophisticated financial mechanics that simulate the laissez faire capitalism of early America. While all the familiar mechanics of an 18xx game are present, such as placing tiles, purchasing tokens, and running trains, the game is won or lost based on the financial decisions you make. 1817 includes financial mechanics seen in other 18xx games such as mergers, friendly takeovers, and conversions to different share str...
Reviews
Sorry, no reviews for the board game 1817. Click here to read more board game reviews from The Board Game Box.
How To Play
Sorry, we currently have no How To Play videos for 1817.
Rules Download
Sorry, we have no downloads available for this game at the moment.
Philos 1817 Backgammon Polyfados, Big, Brown
£74.70
£74.70
MAIYOUWENG Adult Jigsaw Puzzle 500 Piece Wooden Puzzle Night River Duck Bonfire Camping Pattern for Teenagers and Adults,Very Good Educational Game
£22.79
£22.79
OKOUNOKO 500 Piezas Puzzles 3D, Colorful Tree, Snow Mountain, Personalised Assembling Wooden Jigsaw Fun Game, 52X38Cm
£29.70
£29.70
Kids Easel for 2 Double-Sided Magnetic Wooden A-Frame Standing Board Magnetic White Board And Chalk Board, Painting Easel for Children&Toddlers Gifts, Boy And Girl
£23.19
£23.19
YKCKSD Jigsaw Puzzle, Seaside Landscape, Stone Mountain, Green, Blue, White, Diy Modern Wall Art Unique Gift Home Decor, 10x15cm
£12.45
£12.45
Panzer: Expansion #4 - The German Invasion of France, 1940 Board Game
£46.49
Panzer Expansion 4: France 1940
£55.98
Battelship Borad Game Kids Toys Hasbro Children For Boys Childs Toy Gift Item AU
£41.79
Hasbro Kid Toys Battelship Boys Play Borad Game Toy Gift for Children's
£41.79
Battelship Borad Game Kids Toys Hasbro Children For Boys Childs Toy Gift Item SS
£38.45
Hasbro Kids Toys Children Battelship Borad Game Gift Item For Boys Child's Toy
£37.61
Battleship Board Game - Hasbro Gaming Free Shipping!
£24.10
Battleship Refresh Game. NZ Toys. Shipping is Free
£20.12
DISNEY PIXAR INCREDIBLES 2 MONOPOLY JUNIOR Family Board Game HASBRO Gaming
£16.84
DISNEY PIXAR INCREDIBLES 2 MONOPOLY JUNIOR Family Board Game HASBRO Gaming
£14.84
Hasbro Battleship Game - Excellent Condition - Free P&P
£11.99
Battleship card game Hasbro Gaming Battleships Board Game played with Cards
£5.22