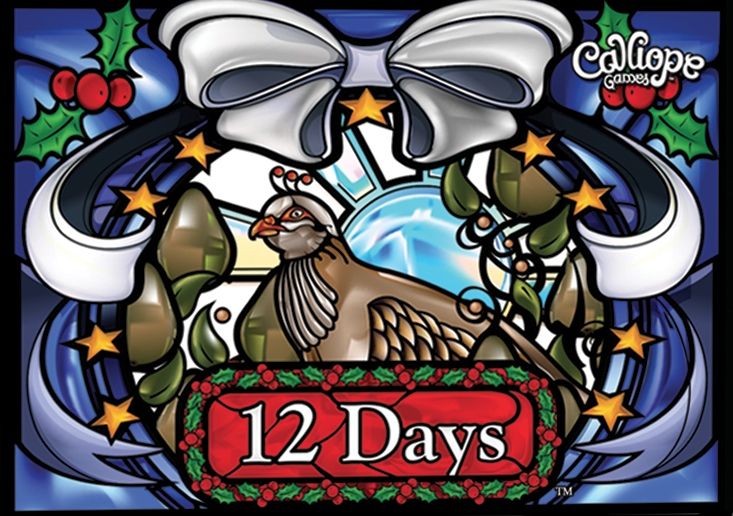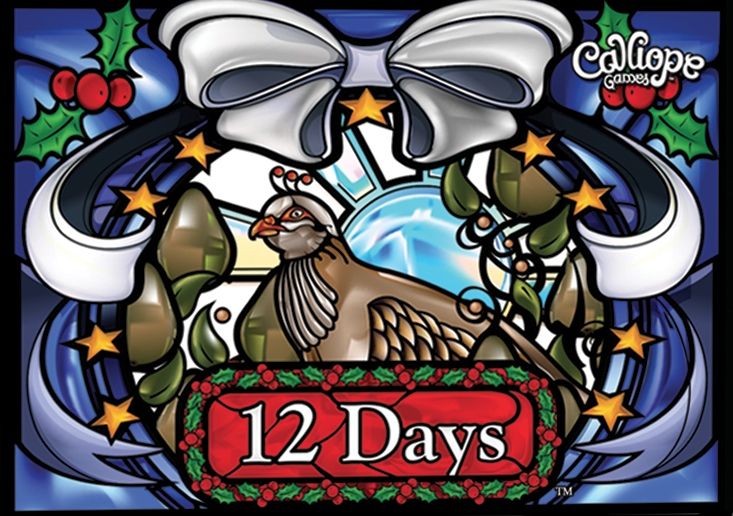 Description
The holiday-themed 12 Days takes the familiar "Twelve Days of Christmas" song and twists it into a quick-playing card game. Over twelve rounds, players try to re-gift unpopular cards while keeping cards that are strong enough to win the day, while also keeping a careful eye for bonus scoring at the end of the game. The gift deck consists of eighty cards: one partridge in a pear tree, two turtle doves, and so on up to twelve drummers drumming, as well as one card each for Mr. and Mrs. Claus. Shuffle this deck, then deal each player twelve cards. Each round a new holiday card is up for grabs, with the cards ranked from 1 to 12 and being worth 1-12 points. In a round, a playe...
Reviews
Sorry, no reviews for the board game 12 Days. Click here to read more board game reviews from The Board Game Box.
How To Play
Sorry, we currently have no How To Play videos for 12 Days.
Rules Download
Sorry, we have no downloads available for this game at the moment.
12 Days Card Game
Drumond Park Articulate! Family Board Game - The Fast Talking Description Game | Ideal Christmas Gift, Christmas Game | Family Games For Adults And Kids Suitable From 12+ Years
£32.99
£14.99
The Yes! No! Game
£8.93
£8.77
Cheatwell Games Tension: The Top 10 Naming Game
£12.99
£12.99
Game For Fame the hilarious party board game
£17.99
£17.99
Drumond Park The Best of Christmas Family Board Game - Cracking Christmas Trivia for All the Family | LOGO Christmas Games For Adults And Kids Suitable From 12+ Years
£12.99
£13.00
Days of Wonder Ticket to Ride Board Game
£30.95
£30.95
Drumond Park The LOGO Board Game - The Family Board Game of Brands and Products You Know and Love | a Family Christmas Gift For Adults And Kids Suitable From 12+ Years
£32.99
£18.95
Funko Pop Board Games Silver Mr. Monopoly #01 Shop Exclusive 12 days Christmas !
£95.00
Legacy-Spiel the Rise of Queensdale Ravensburger 26903 Game from 12 Years
£56.69
Dungeons & Dragon - Castle Ravenloft, Board Game from 12 Years, 1 x Played
£39.76
Game Catan the Rise of the Inka |Kosmos 694241| Strategy Game from 12 Years
£34.85
SAFETY BRAINIAC 5-12 YEARS 1-8 PLAYERS BOARD GAME NEW Stay Safe from Strangers
£22.90
Game Quizduell Master Ravensburger 27208 Quizspiel from 12 Years
£30.48
Drumond Park The Best LOGO Board Game For Adults And Kids Suitable +12 Years
£39.88
The Really Nasty Motor Racing Game Upstarts 12+ Years
£38.99
Drumond Park 1150 The Logo Family Trivia Board Game 2-6 Players For 12 Years +
£36.99
T72988 TOMY Logo Best Of Tv And Movies Family Board Game Kids Toy 12 Years+
£36.04
NEW Thunderbirds 50 Years Trivia Game Board Game, Tactic, 2-6 players, 12+ years
£29.99
Kosmos Game Steam Time (New - 2. Choice) Party Game from 12 Years
£28.45