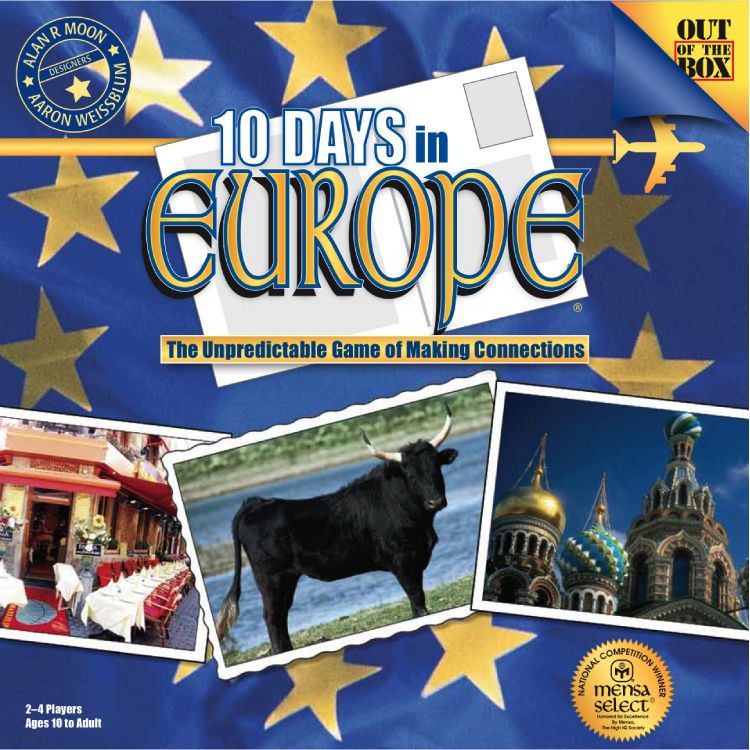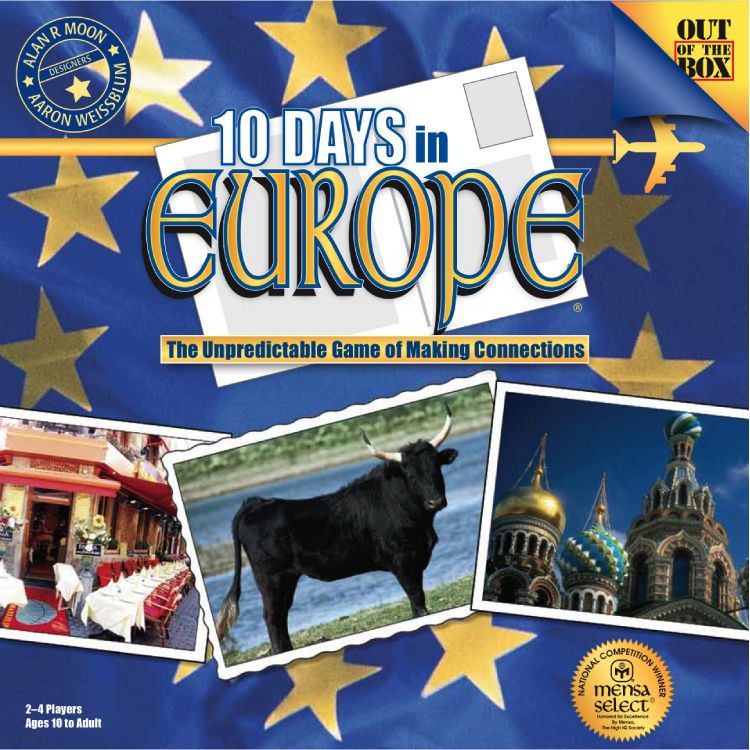 10 Days in Europe Board Game
Description
"There is much to be discovered in Europe! Many roads lead to success in this exciting travel game - you just have to find the right one. Exchange your cards cleverly and find your way through Europe quickly to win. Ten cards must show continuous travel either by land, sea or air." Europa Tour (copyright 2002) is possibly the first in the 10 Days in series while 10 Days in Europe is the third installment in the 10 Days in series. Gameplay All players pick tiles up one at a time, examining them and placing them onto any empty spot on their tile holders. Then, in turn, each player draws one tile and may replace one of their lined-up tiles with it. (Tiles may not...
Reviews
Sorry, no reviews for the board game 10 Days in Europe. Click here to read more board game reviews from The Board Game Box.
How To Play
Sorry, we currently have no How To Play videos for 10 Days in Europe.
Rules Download
Sorry, we have no downloads available for this game at the moment.
Days of Wonder DOW7202 Ticket to Ride Europe
£37.99
£31.99
Drumond Park Articulate! Family Board Game - The Fast Talking Description Game | Ideal Christmas Gift, Christmas Game | Family Games For Adults And Kids Suitable From 12+ Years
£32.99
£14.99
Wild Card Games Who Knows Where? - The Global Location Guessing Family Board Game
£29.00
£29.00
The Chameleon Board Game: Multi Award-Winning Family Game
£27.00
£27.00
MAPOMINOES EUROPE - The Ultimate Geography Game - Fun and educational travel card game for kids teenagers and adults. Like dominoes with maps.
£10.99
£9.99
Out of the Box 10 Days In Europe Game
Ravensburger Labyrinth - The Moving Maze Game
£17.00
£17.00
Games E4304102 The Game of Life Board Game, Multi-Colour
£23.99
£18.00